DVGW Certify Double Lock Stainless Steel Metal Shower Hose
Product origin XIAMEN
Delivery time 20 days
Supply capacity 100000 pieces per month
1. Ready to use – the DVGW certify metal shower hose comes with 2 pre-assembled sealing rings, fits without adapter to any G ½ inch connection and can be mounted without pliers thanks to the extra-long, non-slip end pieces. No annoying trips to the hardware store or handle to the tool box. The end piece is slim and sits securely in any mount. Now let hot water run through for 60 seconds and the hose hangs casually down, does not twist, does its work inconspicuously and does not disturb it.
2. DVGW certify stainless steel shower hose– real stainless steel instead of brass in chrome-plated stainless steel look. This hose uses the elaborate double winding process. The stainless steel elements are not only simply wrapped on top of each other, but additionally wrapped in one another, which makes the stainless steel hose particularly tensile strength. The rotary cone is leak-proof on the DVGW stainless steel shower hose with its own high-tech injection process.
3. Twist protection on both sides and high water pressure – it is the only shower hose with double twist-free system, no matter how you turn and turn, the hose is rotatable, does not kink, does not protrude into the bath or shower. Many hoses have a flow limiter in the cone or a small inner diameter in the valve due to the construction. The lower flow rate results in low water pressure. We have no volume control! A high flow significantly increases the pressure.
DVGW Certify Double Lock Stainless Steel Metal Shower Hose
DVGW Certify Double Lock Stainless Steel Metal Shower Hose technical drawing and parameter
| | | |
| --- | --- | --- |
| 1 | Item No.: | P21525CP |
| 2 | Description: | DVGW certify double lock stianless steel metal shower hose |
| 3 | Application: | Hand shower, kitchen spray, toilet spray |
| 4 | Inner tube: | DVGW certify PVC |
| 5 | Diameter: | 14mm |
| 6 | Color: | Chrome plated |
| 7 | Length: | 2.0m or customized |
| 8 | Insert: | Brass core with anti-twist construction |
| 9 | Nut Material: | Brass, |
| 10 | Nut style | smooth Conical nut with wrench position |
| 11 | Product Performance: | Vertical tension over 50 kg; Working pressure 0-10 bar |
| 12 | Certification: | ISO9001:2008;DVGW |
Certification including DVGW,KTW, CUPC,NSF,WRAS,ACS,TUV,KIWA for your reference: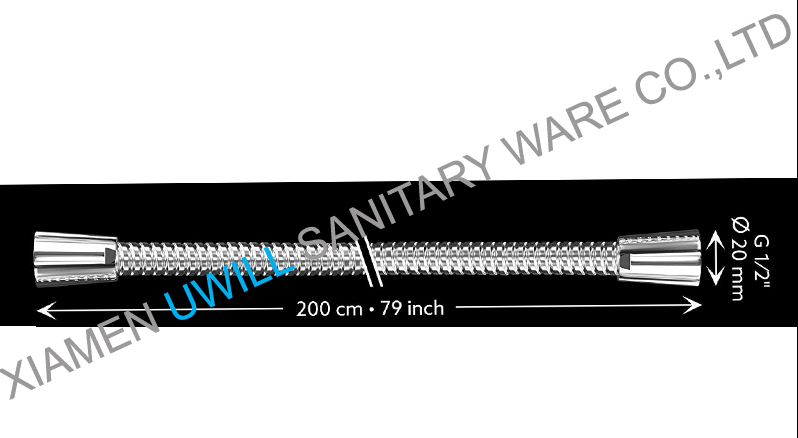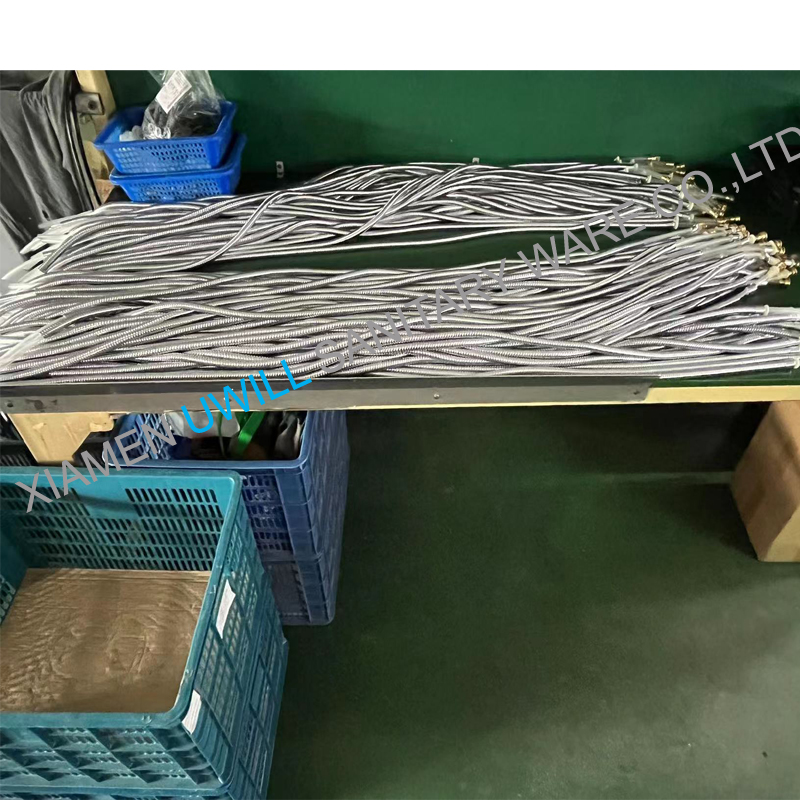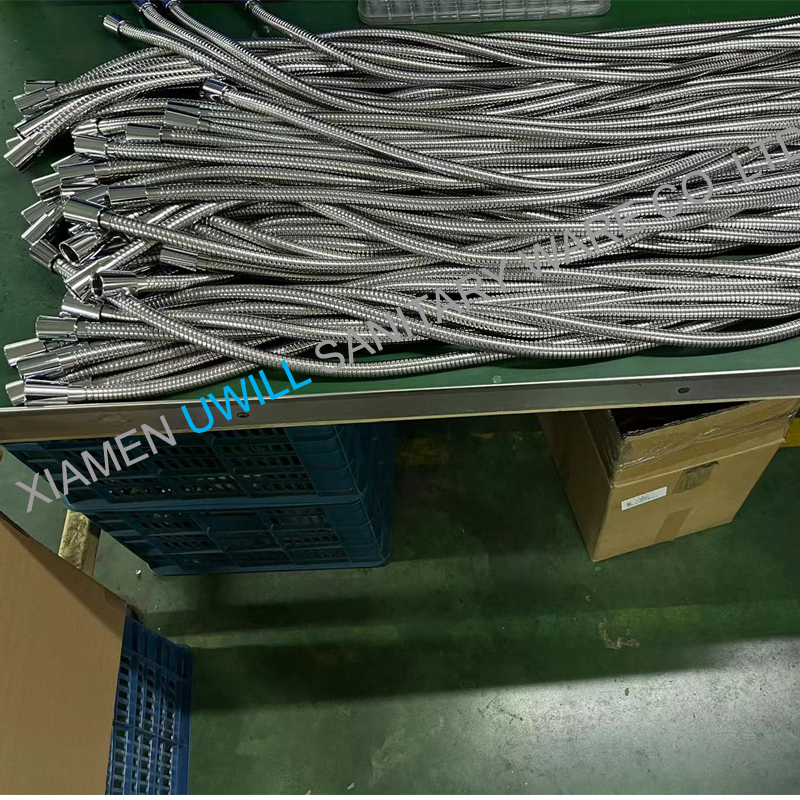 Know More Detail About Our Factory: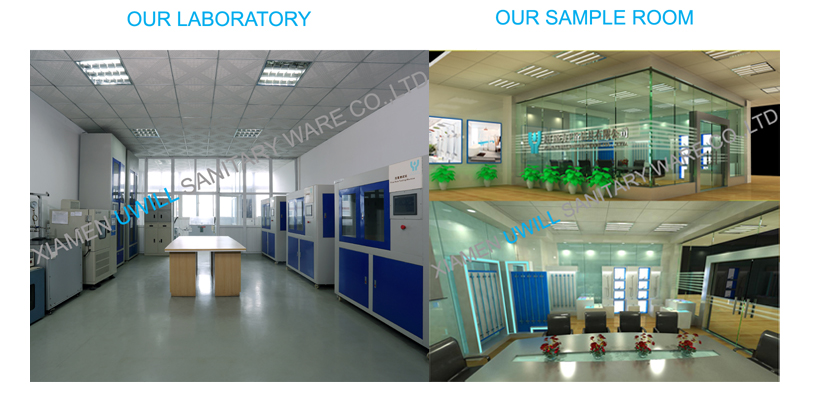 Our Workshop: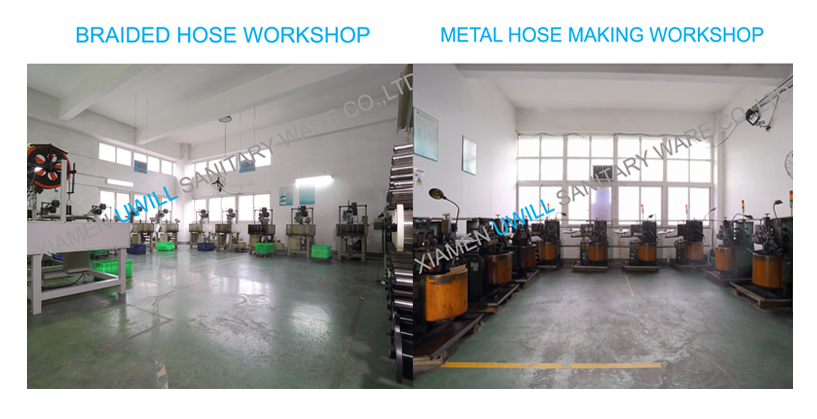 Our half-finish Area: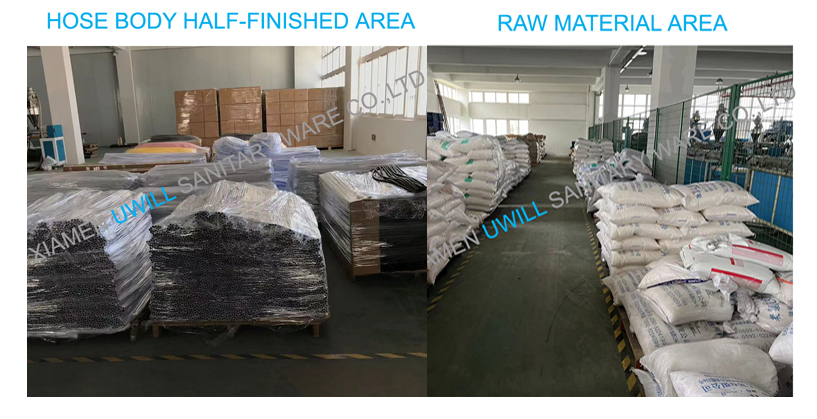 The logistic: